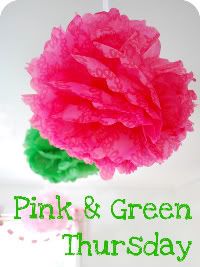 So yesterday, a cataclysmic event happened - blogger was down. No post editing, no new posts, no commenting, no nothing. You don't know what you have until it's gone, and I quickly learned how attached I've become to blogging. So, while I was cheated out of posting my Pink and Green Thursday on
Thursday
, I'm an independent girl, not one to be held back by days of the week!
I had my Pink and Green Thursday ready, so I am posting it, Friday be damned!
Thursday was a big day at ASU - it was graduation! Graduation is a huge accomplishment, and was quite scary this year since I'll be one of the new grads receiving a diploma in less than a year's time, yikes!.
In honor of the new grads, this post is dedicated to divine Pink and Green grad gifts that I'm lusting after.
1.
Jimmy Buffet Margaritaville Mixer
- nobody knows margs better than Mr. Buffet! As a new grad, I'd love to entertain at my first place with this marg machine and slug back a few margs.
2.
This
Lilly magnetic board is perfect for posting reminders and keeping track of your busy new grad life - I'm deck mine out in lime green post its.
3. I'm obsessed with KitchenAid's pink breast cancer appliance line -
this
standing mixer would actually get me baking, no small feat.
4.
These
Lilly wine glasses from Lifeguard Press are so chic! And they're plastic, so they won't break easily, a great advantage for a klutz like me!
5.
This
KitchenAid food processor is almost as cute as the mixer. They both benefit breast cancer research and prevention.
6. I can't wait to entertain in my first place, so
this
Lilly cocktail shaker is a must. Now, to learn to make cocktails.
7. While
these
Paula Deen pots and pans aren't pink and green, I couldn't leave them off the list! I own two pans by Paula, and they are amazing. Having the whole set would be a great grad gift.
Congrats, new grads! Carpe diem!